Settings
Settings offers a variety of choices for personalizing your TV experience.
Options
Press
on your remote and select Settings from the main menu to choose from the below.
| Menu | Options |
| --- | --- |
| TV | Accessibility - Turn on/off voice guidance. Turn on/off closed captioning and choose how it appears on screen and change your SAP video description |
| | Audio/Video - Adjust the screen resolution, change your audio output settings and more |
| | Restrictions - Turn on/off parental controls and/or your purchase PIN and set up restrictions |
| | Preferences - Turn on/off caller ID on your TV, pair your remote, manage your Cloud DVR recording preferences and more |
| Internet | Find and manage your in-home WiFi network name and password |
| System | Change the front panel display to show current time or channel, set the sleep timer and more |
| Help | Get quick tips and watch helpful tutorials |
| Account | View and pay your bill, upgrade your services and more |
Parental Controls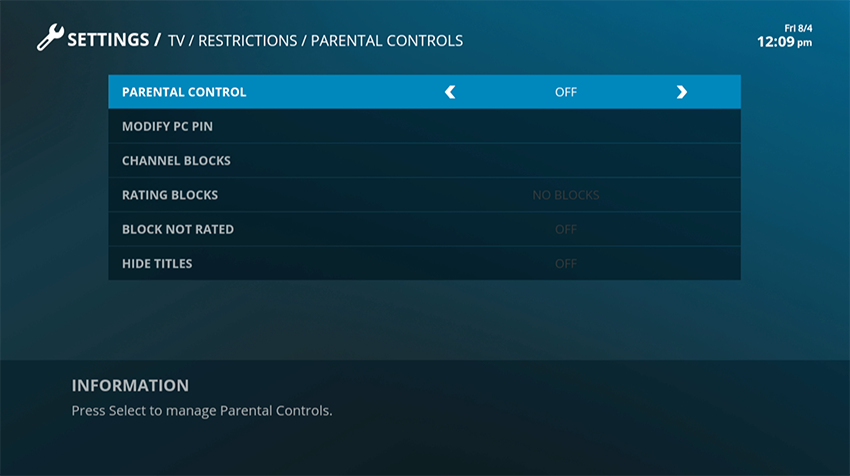 Limit what's viewable on your TV - including DVR and On Demand content.
Channel Blocks

: Blocks access to a specific TV channel.

Rating Blocks

: Blocks access to all shows with a specific TV rating and above.

Block Not Rated

: Blocks access to any programming without a rating.

Hide Titles

: Blocks adult titles and programming from displaying on screen.
Did you Know?
You can limit or restrict others from purchasing programs by enabling a purchase PIN.
In-Home WiFi Network
To connect wireless devices such as laptops, smartphones, tablets and smart TVs to your in-home WiFi network, you need your in-home WiFi network name, also known as an SSID, and password. If you don't know your WiFi network name or password, there are two easy ways to find them.
On your TV
Press on your remote to bring up on the main menu and select Settings.
Highlight "Internet" and press

SELECT

.
Scroll to "Wi-Fi" and press

SELECT

.


On .net
Go to optimum.net/router.
Login with your Optimum ID and Password.
Ready to connect your devices to your in-home WiFi Network? Click here to learn more.