Pay Per View
The next best thing to being at the big fight, is watching it on pay per view. Check out this month's line up of exciting pay per view events on Optimum TV.
Pay per view events can be found in HD on Channel 550 and in SD on channels 551 and 552. In addition, select events are available in Espaņol on Channel 553. A digital cable box or CableCARD is required to receive pay per view events. Customers with CableCARDs must call Customer Support to order pay per view. Prices and programming subject to change.
UFC 209:
WOODLEY vs THOMPSON 2
Saturday, March 4th
at 10:00 p.m. - $59.95





Available on: Ch. 500 in HD | Ch. 551 in SD | Ch. 553 in SD (en espaņol)
UFC welterweight champion Tyron Woodley looks to settle the score against Stephen Thompson. Plus, Khabib Nurmagomedov battles Tony Ferguson for the interim lightweight title.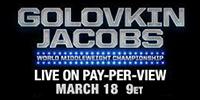 BOXING:
GOLOVKIN vs JACOBS
Saturday, March 18th
at 9:00 p.m. - $54.95
Available on: Ch. 500 in HD | Ch. 551 in SD
Middleweight Madness ensues when unified Middleweight Champion, Gennady Golovkin meets WBA Middleweight Champion, Daniel Jacobs for the World Middleweight Championship.