Pay Per View
The next best thing to being at the big fight, is watching it on pay per view. Check out this month's line up of exciting pay per view events on Optimum TV.
Pay per view events can be found in HD on Channel 550 and in SD on channels 551 and 552. In addition, select events are available in Espaņol on Channel 553. A digital cable box or CableCARD is required to receive pay per view events. Customers with CableCARDs must call Customer Support to order pay per view. Prices and programming subject to change.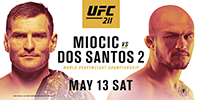 UFC 211:
MIOCIC vs DOS SANTOS 2
Saturday, May 13th
at 10:00 p.m. - $59.95





Available on: Ch. 500 in HD | Ch. 551 in SD | Ch. 553 in SD (en espaņol)
Stipe Miocic defends his heavyweight crown against Junior Dos Santos, and dominant strawweight titleholder Joanna Jedrzejczyk faces Jessica Andrade in the Co Main Event.
BOXING:
CANELO vs CHAVEZ JR.
Saturday, May 6th
at 9:00 p.m. - $59.95
Available on: Ch. 500 in HD | Ch. 551 in SD
Canelo—the biggest star in boxing. Chavez Jr.—the son of the legend. As these two power punchers collide in what is sure to be a sensational slugfest, it will be one for the ages and sure to be an epic fight in Mexican history.