Troubleshooting your Range Extender
A Range Extender's function is to expand the range of your Smart Router's Wi-Fi signal. In most instances, an extender will help provide you with seamless Wi-Fi coverage in your home or business environment. However, in some instances, you may experience issues with connectivity to your Range Extender. Below, you will find some helpful tips on steps that can be taken to resolve Range Extender connectivity issues.
If you changed your Smart Router SSID and/or password, click on the issues you may be running into below:
Can't connect to my Range Extender
Still see my old Smart Router SSID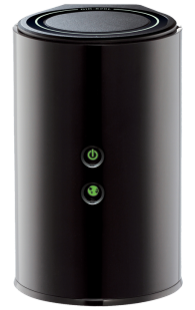 FAQs
My device connects to the Range Extender, but the internet is slow or doesn't work:
First, confirm that the Range Extender was not moved to another area of your home or business. If the Range Extender has been moved, try placing the Range Extender back where it was originally installed and check if your Wi-Fi coverage has improved.
If your Range Extender is connected to your Router with an Ethernet cable, confirm the cable is connected from one of the Smart Router's four LAN ports to one of the Range Extender's four LAN ports. If you are still having issues, click
here
to contact Optimum Support.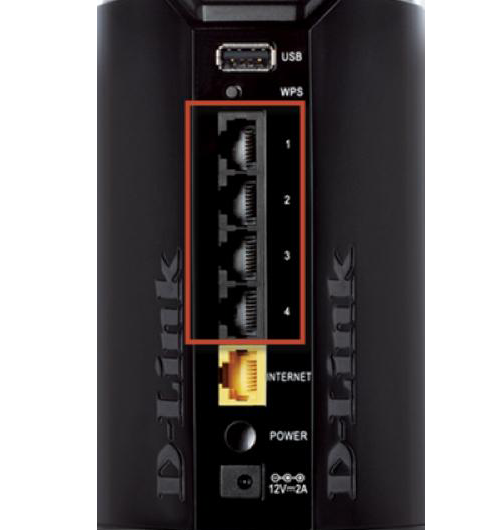 The Smart Router SSID and/or password were changed and I can no longer connect to the Range Extender:
If you've changed either or both of these settings, it's likely that the Range Extender has lost connection to your Smart Router. Please follow the steps below to reconfigure the Range Extender.
1. Factory reset your Range extender by taking a paperclip or similar sized object to press and hold the pinhole until the power light turns orange. The pinhole is located at the bottom of the extender and is labeled 'Reset'. Wait for the power light to return to green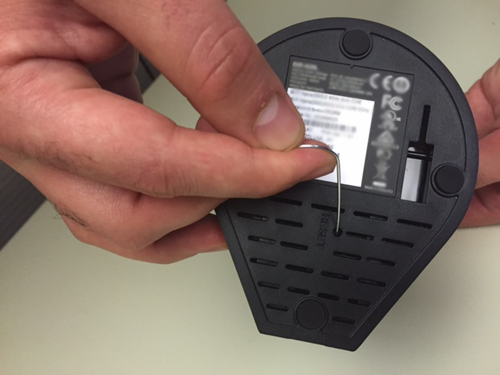 2. From a Wi-Fi capable device (phone, tablet or laptop), search for dlink_5EXT in the list of Network Names

3. Once connected, launch a web browser and enter 192.168.0.50 on the url field of the browser

4. On the login screen, you will see 'Admin' in the username field. Leave the password field blank and click on 'Log In'

5. Change the 'Wireless Mode' to 'Repeater Mode' then click on 'Site Survey'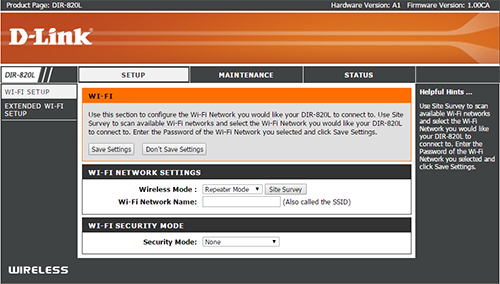 6. You will be presented a list of SSIDs/Network Names. Select your Smart Router's 5GHz SSID/Network Name and click on 'Connect' section
7. You will be brought back to the "Wi-Fi Setup" screen. Confirm that the SSID/Network name you chose has been entered on the 'Wi-Fi Network Name' field
8. On the 'WPA/WPA2' section, enter your Smart Router's 5 GHz band password on the 'Password' field. You will see a new screen that will apply the changes after 15 seconds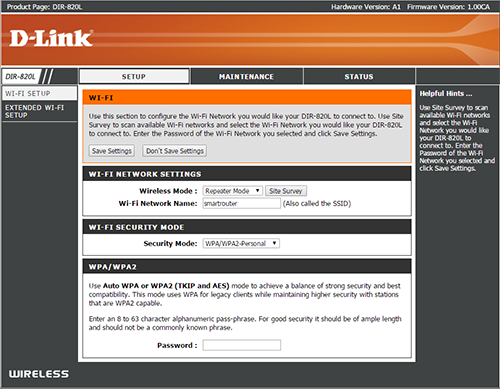 9. Once the time is complete, close the browser
10. Connect your device to the Range Extender SSID that you just configured
11. On the device that you just connected to your Range Extender, confirm that you are able to connect to the Internet by lunching a browser and opening up a website
SSID on my Smart Router was changed, but I still see it as an available SSID on my device:
You'll need to adjust the settings on the Range Extender so that the SSID and/or Password matches the Smart Router's. If your Range Extender is connected through an Ethernet Cable to your Smart Router, please following the steps below:
1. Using a device that is currently connected to one of the Range Extender's SSIDs, launch a web browser and type http://dlinkap.local in the address bar
2. On the login screen, you will see 'Admin' in the username field. Leave the password field blank and click 'Log In'

3. Click on the 'Extended Wi-Fi Setup' tab on the left navigation
4. On the 'Extended Wi-Fi Network Settings' section, enter your Smart Router's 2.4 GHz SSID and append "_2EXT" in the 'Extended Wi-Fi Network Name' field
5. On the first 'WPA/WPA2' section, enter your Smart Router's 2.4 GHz password on the 'Password' field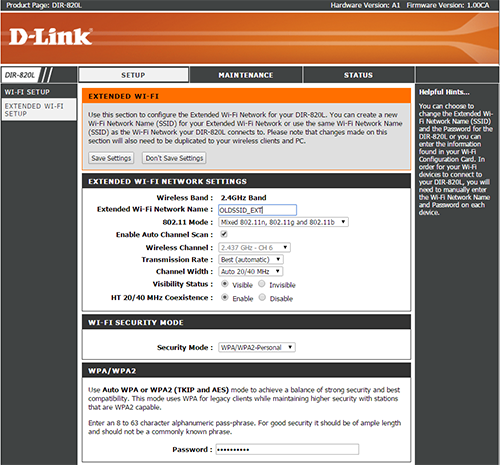 6. On the 'Wireless Network Settings' section, enter your Smart Router' 5 GHz SSID and append "_5EXT" in the 'Extended Wi-Fi Network Name'
7. On the second 'WPA/WPA2' section, enter your Smart Router?s 5 GHz password on the 'Pre-Shared Key' field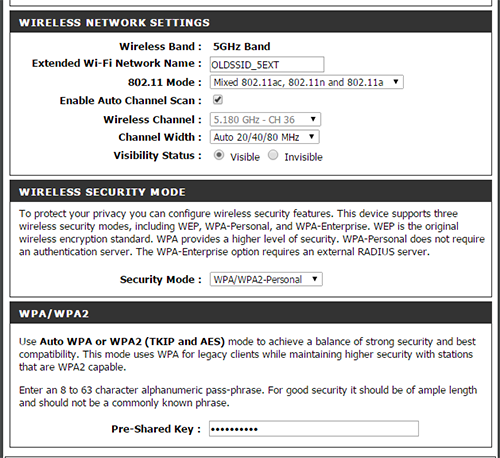 8. Click 'Save Settings' once complete. You will see a new screen that will apply the changes after 15 seconds
9. Once the time is complete, close the browser
10. Connect your device to the Range Extender SSID that you just configured
11. On the device that you just connected to your Range Extender, confirm that you are able to connect to the Internet by launching a browser and opening up a website