Home & Apps
Find programming that is personalized to your household and open up your favorite apps without changing the input.
Home
Press
on your remote to bring up the main menu, and select Home. Here you'll find recently started and recorded programs, favorite On Demand programming and what's trending on YouTube making it easier for you to discover your new favorites.
Restart

: Find the top live shows you can restart from the beginning.

Live and Upcoming

: Check out what games and matches are on now as well as upcoming ones.

Continue Watching

: Pick up where you left off on Cloud DVR and On Demand programming.

Recently Recorded

: Quickly access programming that you recently recorded.

Favorites On Demand

: Shortcut to the On Demand movies and TV shows you have selected as Favorites.

Trending On YouTube

: See what videos are currently trending on YouTube.

Quick Tips & Tutorials

: Learn all about your entertainment experience.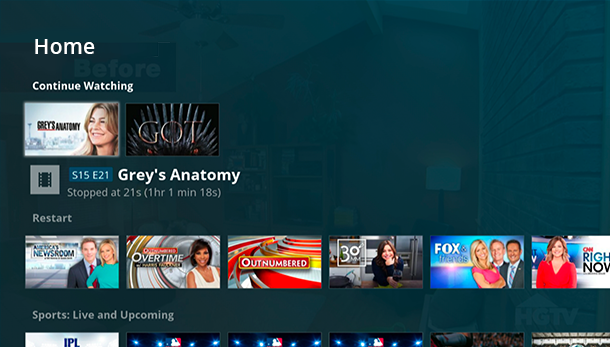 Apps
Discover a world of new content with popular streaming apps right on your TV. No need to change inputs. Just press
to bring up the main menu and select Apps.
To open an App, simply highlight the app you wish to use, and press SELECT.
We're always adding new apps, so check back often to see what's new.