With 46 channels of commercial-free music on your TV, Music Choice has something for every music listener. And on December 10th, Music Choice is going to add even more: 5 brand new channels and 3 reinvented channels. Plus, most of the stations will be located on new channels. To accommodate these changes, we'll be updating our channel lineups Tuesday, December 10 through Monday, December 16, 2013. So get ready to enjoy more from Music Choice with a crowd or on your own.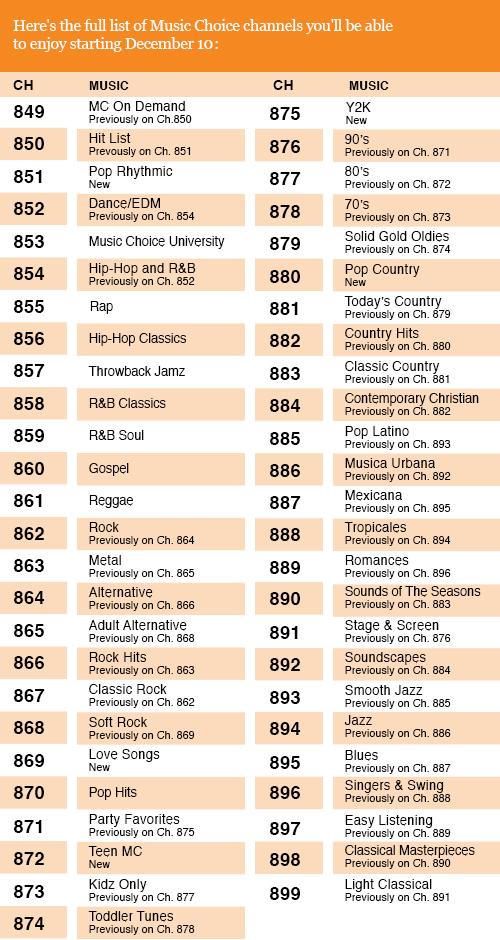 New channels. More music
Teen MC (Ch. 872): A hyper-focused pop channel for teens and tweens. Core artists include: Selena Gomez, Lady Gaga, Imagine Dragons, Fall Out Boy, Justin Timberlake, Katy Perry, Macklemore.
Pop Rhythmic (Ch. 851): A diverse, non-stop mix tape of Pop, Hip Hop and Dance that sets the mood for any party or get together for 18-24 year olds. Core artists include: Justin Timberlake, Drake, Rihanna, Calvin Harris, Miguel, Macklemore, Lil Wayne.
Pop Country (Ch. 880): A hybrid of Hit List and Today's Country following the current trend of country music crossover. Core artists include: Hunter Hayes, Taylor Swift, Florida Georgia Line, Justin Bieber, Miley Cyrus, Selena Gomez.
Y2K (Ch. 875): A new decades channel for the 2000s featuring up-tempo Top 40 hits with a mix of Pop, lighter themed-Hip Hop and mainstream Rock. Core artists include: Britney Spears, NSYNC, Christina Aguilera, Pink, Justin Timberlake.
Love Songs (Ch. 869): The best of today's pop love songs with everything from down-tempo ballads to up-tempo monster love songs. Core artists include: Bruno Mars, Maroon 5, Justin Timberlake, Adele.
New names. Old favorites.
Rock Hits (Ch. 866) (formerly Retro Rock): Mid to up-tempo classic alternative rock from 1986 to the early 2000s. Core artists include: Guns N' Roses, Pearl Jam, Nirvana, Linkin Park, Foo Fighters.
Country Hits (Ch. 882) (formerly True Country): The biggest artists' #1 country hits from the 90s, 2000s and today. Core artists include: Kenny Chesney, Tim McGraw, Faith Hill, George Strait, Martina McBride.
Dance/EDM (Ch. 852) (formerly Dance/Electronica): Non-stop dance and electronic dance songs. Core artists include: Daft Punk, Calvin Harris, Avicii, Deadmaus5, Krewella.
Channel changes.
We're also infusing the new Rock Hits channel with the best of Classic Alternative and removing Classic Alternative as a separate channel. Plus, 37 channels are moving to new locations. See the new channel lineup above for all the details.
Digital cable box, HD digital cable box or CableCARD at an additionally monthly charge is required for each TV. All trademarks and service marks are the property of their respective owners. All services not available in all areas. ©CSC Holdings, LLC.