Sports & Search
Easily connect to the sports you love and quickly find the programming you're looking for on live TV and On Demand.
Sports
This is your single destination for everything sports. To access, press

on your remote to bring up the main menu and select Sports or use voice commands and say "Sports."

Leagues and genres are sectioned out at the top of the screen. Use the
and

to navigate to what you want, to see live and upcoming games, sports shows, replays and related content on YouTube.
Customize your experience by setting which teams appear in My Sports.
Press on your remote to bring up the main menu and select 

Sports

.
Under

My Sports

, highlight 

Favorites

then press 

SELECT.

.
Scroll to the league you want and press

SELECT

.
Use the arrows to highlight the team(s) you want to follow and press 

SELECT

. A white heart will appear in the upper when a team(s) is favorited.
Using Your Remote
Find what you want faster with your remote and voice commands.
How to use
Press and hold

on your remote. You'll see on-screen that the microphone is on and listening for your request. When done speaking, release

and search results from live TV and On Demand will quickly appear. Use
to scroll to the results, then highlight what you want and press SELECT to get more information.
Command options
You can search in English by keyword as well as by phrase for:
movies or TV shows: "Watch I Love Lucy"
actors or directors: "Audrey Hepburn"
genre: "Find kids movies"
sports teams: "New York Giants"
Want to start your search over? Simply press

again and say your command.

To learn more about the voice remote, click here.
Using The Keyboard
Another way to find what you're looking for is by using the on-screen keyboard. Press

and select Search from the main menu.

Use the ARROWS to select "Keyword Search" and press SELECT. Highlight the first letter of your search word, and press SELECT to choose the letter. As you select more, search will begin to suggest results that match your entry so far. Use
to navigate to "Suggestions." Highlight a search result or "View all" and press SELECT to view.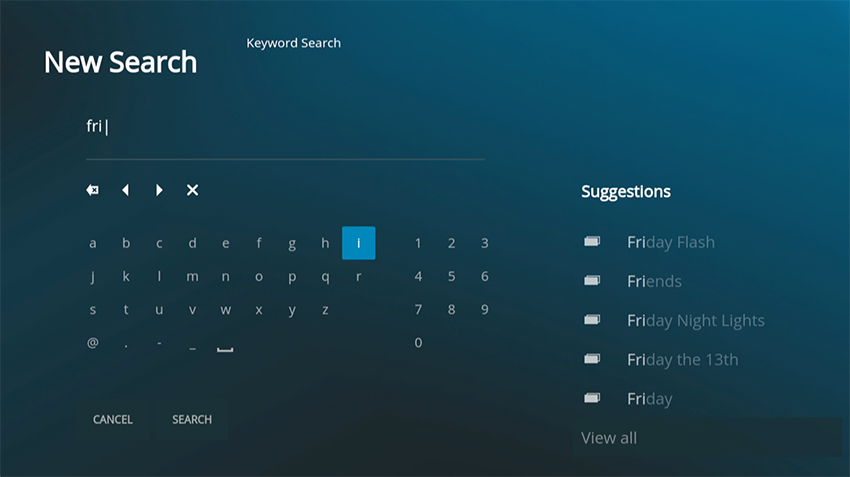 Recent Searches
If you've previously search for something, there is no need to do it again. Old searches will appear when you first enter Search. Simply highlight the search term and press SELECT to view up-to-date results. To remove your old searches, highlight the trash bin and press SELECT.